Genetic Labs Australia
Regular price
Sale price
$13.51
Unit price
per
Sale
Sold out
Give the Gift of Youthful Vitality with a Genetic Labs Australia e-Gift Card.
Looking for a meaningful gift that embodies the pursuit of timeless beauty and wellness? Delight your loved ones with a Genetic Labs Australia e-Gift Card, unlocking a world of anti-ageing benefits. Our carefully curated selection of anti-ageing supplements are designed to support a vibrant and youthful life at every stage.
With our e-gift card, recipients gain access to a range of premium anti-ageing formulas that target various aspects of well-being. From revitalising skincare solutions to potent internal nourishment, our supplements are crafted to enhance beauty from within and promote longevity.
Why choose our Genetic Labs Australia E-Gift Card?
Tailored Anti-Ageing Solutions: Our e-gift card allows them to choose from a comprehensive selection of supplements designed to combat the effects of ageing. The recipient can curate their own regimen for a radiant life.


Scientifically-Backed Formulas: Our supplements are backed by rigorous research and crafted with the highest quality ingredients. By choosing our e-gift card, you're granting access to cutting-edge formulations that deliver tangible results.


Expert Guidance: Our dedicated team is here to provide personalized guidance and recommendations. With the e-gift card, recipients can tap into our expertise and tailor their supplement choices based on individual goals and needs.


Convenient and Instant: Our e-gift cards are delivered instantly via email, ensuring a seamless gifting experience. Whether it's a special occasion or a spontaneous gesture, you can effortlessly share the gift of age-defying wellness.
Empower your loved ones to embrace the transformative power of anti-ageing with the Genetic Labs Australia
e-Gift
Card. Give the gift of radiant health, inspiring them to embark on a journey towards rejuvenation and vitality. Purchase an e-gift card today and let them unwrap the secret to ageless living.
Please note: The e-gift card can be redeemed for any of our anti-ageing supplements. Terms and conditions apply.
Share
View full details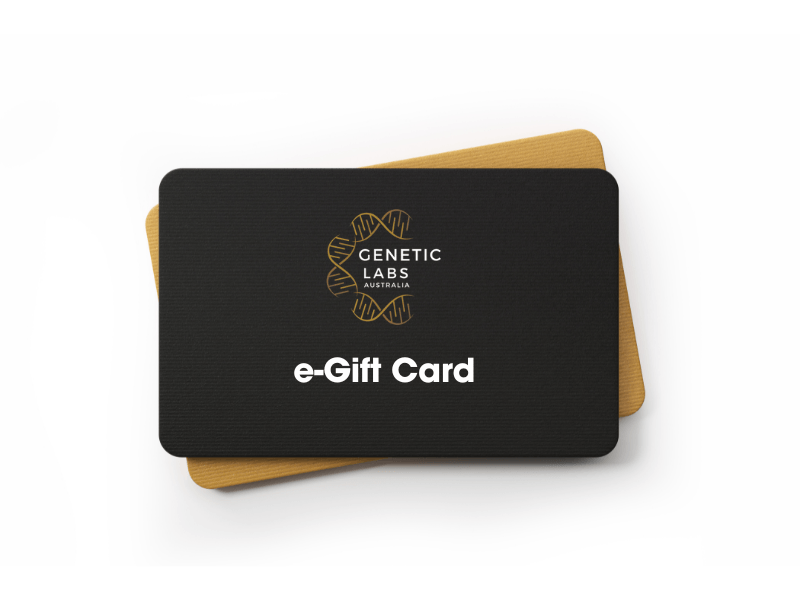 We're Joining You
- ON YOUR PATH TO HEALTH -
Lydia Dayman

"After just a few days on Genetic Labs Australia's NMN, I noticed improved mood and mental clarity. Plus, I'm sleeping better and have more energy."

Jarrad Harris

"Genetic Labs Australia's NMN has made a big difference in my overall health and well-being. My skin looks and feels healthier, and I have more energy."

Antonietta Amadio

"Genetic Labs Australia's NMN is the best supplement I've tried. My energy levels are through the roof and my workouts are more intense than ever."

Sara Peressin

"Genetic Labs Australia's NMN has really helped support my body's natural aging process. I feel more energetic and my skin looks great."
Need Support?
Reach out to chat with our dedicated team via email.