Genetic Labs Australia
Regular price
Sale price
$27.00
Unit price
per
Sale
Sold out
Unlock the secret to youthfulness and vitality with our premium 250g Creatine Monohydrate powder from Genetic Labs Australia. Sourced and manufactured right here in Australia, this potent Creatine Monohydrate supplement is designed to help you tap into the remarkable anti-ageing properties of creatine.
Our Creatine Monohydrate supplement fuels cells throughout your body, replenishing energy levels and supporting muscle vitality, while combatting the effects of sarcopenia that weaken muscles as we age. Experience the potential anti-ageing benefits, including improved skin health, enhanced cognitive ability, and assistance for individuals with multiple sclerosis (MS) in exercising.
Whether you're an athlete looking to enhance performance or an individual seeking to combat the effects of ageing, our Creatine is your ultimate solution. Why choose Genetic Labs Australia's Creatine for your anti-ageing needs?


Unleash Your Youthful Energy: Our Creatine

 

powder supports increased ATP production, the energy currency of your cells. Experience a surge in stamina, allowing you to embrace an active lifestyle with vigour.


Promote Lean Muscle Mass: With regular use, our Creatine helps stimulate muscle protein synthesis, aiding in the development of lean muscle mass. Achieve a more sculpted and toned physique that defies the hands of time.


Boost Cognitive Function: Research suggests that Creatine can enhance brain health and cognition. Elevate your mental performance, sharpen your focus, and experience improved memory retention as you age gracefully.


Fight Cellular Oxidative Stress: Free radicals wreak havoc on your body, accelerating the ageing process. Our Creatine acts as a potent antioxidant, combating oxidative stress and protecting your cells from damage.
Made in Australia, Trusted Worldwide: We take pride in sourcing the highest-quality ingredients and manufacturing our products locally. Rest assured, our Creatine powder is rigorously tested and free from artificial additives, ensuring purity and safety.
Mix 5g (1 scoop) with 250 ml of water, juice, or your preferred beverage. Stir or shake thoroughly until the powder is fully dissolved. Consume the mixture promptly. You can take creatine at any time throughout the day, but some prefer taking it before or after their workouts to maximise its benefits.

Don't let age define you – take charge of your wellness journey. Supercharge your anti-ageing routine and embrace a vibrant, youthful life. Reclaim your vitality and shop now to experience the transformative benefits of this remarkable supplement.
Share
View full details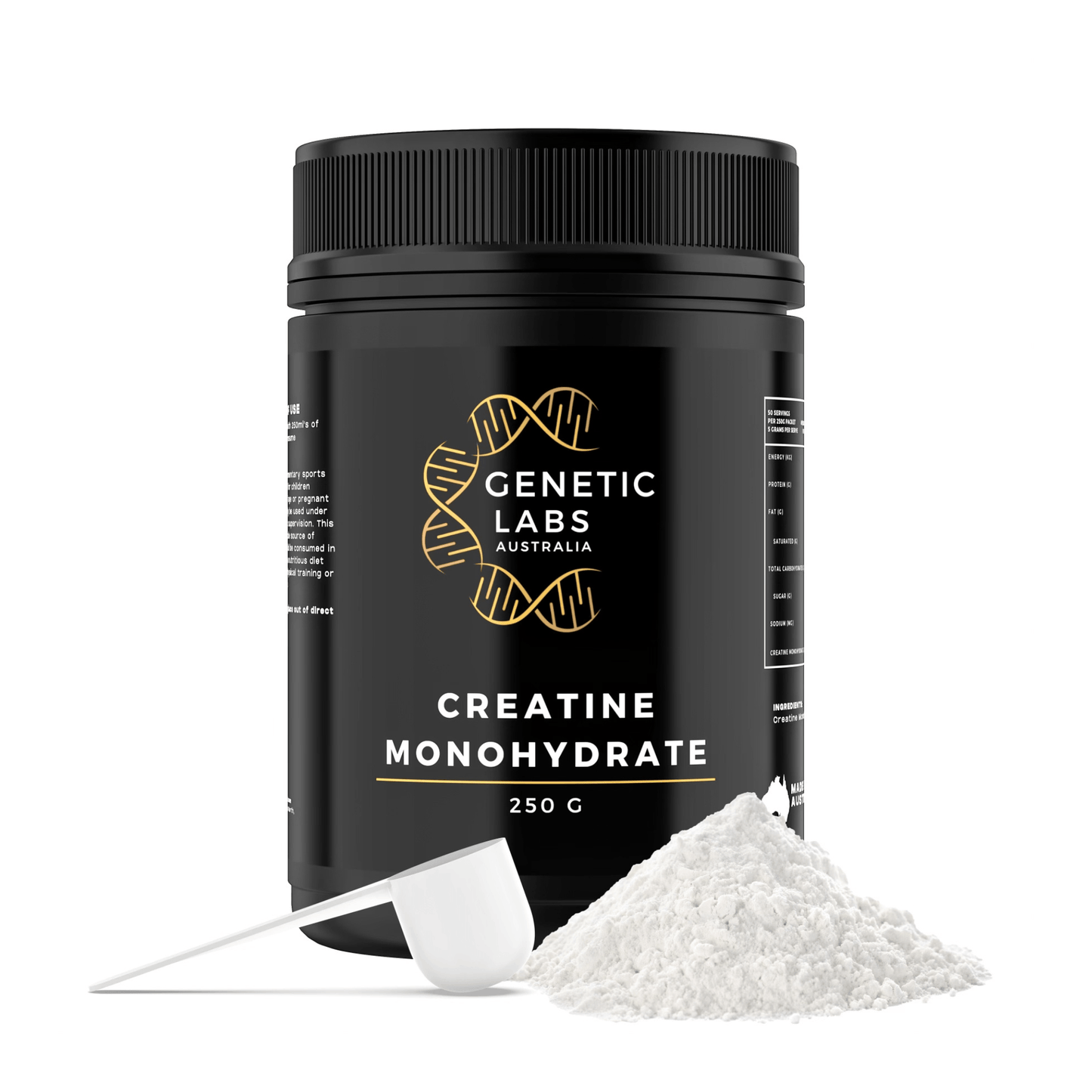 Invest in Your Wellbeing
Your Order

Each order includes a 250g container of our premium Australian-made Creatine powder, carefully formulated to provide you with powerful anti-ageing benefits
Benefits

Enhanced energy production and increased stamina
Promotes the development of lean muscle mass
Improved cognitive function and mental performance
Acts as a potent antioxidant, combating cellular oxidative stress
Manufactured in Australia with high-quality ingredients for purity and safety
Usage

Take 5 grams of creatine powder mixed with water or your preferred beverage daily
Ingredients

250g Creatine Monohydrate
We're Joining You
- ON YOUR PATH TO HEALTH -
Lydia Dayman

"After just a few days on Genetic Labs Australia's NMN, I noticed improved mood and mental clarity. Plus, I'm sleeping better and have more energy."

Jarrad Harris

"Genetic Labs Australia's NMN has made a big difference in my overall health and well-being. My skin looks and feels healthier, and I have more energy."

Antonietta Amadio

"Genetic Labs Australia's NMN is the best supplement I've tried. My energy levels are through the roof and my workouts are more intense than ever."

Sara Peressin

"Genetic Labs Australia's NMN has really helped support my body's natural aging process. I feel more energetic and my skin looks great."
Need Support?
Contact us below and our team will respond to your enquiry.